Make My Day Award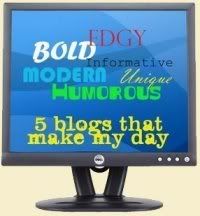 Award Rules

1) Award and Link to 5 blogs that make you think and/or make your day.
2) Acknowledge the post of the award giver:

TOM


3) Tell the award winners that they have won by commenting on their blogs with the news!

Now the part I find hard.. I could give this to many. All the blogs I visit make my day or I would not keep going back for more, but I'm told I can only pick 5.

1

Renie


She has some pretty interesting post when she tells about her family's life during WWII and how she came to America with her Grandparents.

2

Merle


She's like me she likes to post a lot of jokes, but she also talks about her family.

3

Wil


She also has stories about WWII, but she has some very good slide shows she's put together of her surroundings and other interesting things.

4

Wanda


Love her stories and photos of her watercolors. Her husband just recently retired from being a full time minister.

5

Breast Cancer Awarness

I go here every day and click, this helps women get their mammograms that can't afford them. And catching breast cancer in the early stages it the most important thing. I realize this spot will not be able to forward five new blogs, but I felt this is an important click.

Of course I have many, many I would like to list, but I also think perhaps they wouldn't want to take part. I list some to the left of my blog in the side bar.

Thank you Tom for the Award.