"I just received this Award from my dear friend Merle, in Australia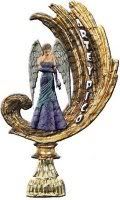 1. Select 5 blogs that you consider deserving of this award, creativity, design, interesting material, and also contributes to the blogger community, no matter the language,

2. Each award has to have the name of the author and also a link to his or her blog to be visited by everyone.

3. Each award- winner has to show the award and put the name and link to the blog that has given her or him the award itself.

4. The award-winner and the one who has given the prize have to show the link of "Arte y Pico" blog so everyone will know the origin of this award.

5. To show these rules. This award is "dedicated to many who nourish and enrich the spirit and creativity, camaraderie, joy and above all, ART, much art. I wish that this prize is entertaining to all those bloggers and to bloggers who day by day share this space and enrich it a little more each day.

Now I have to pass it on to 5 blogging friends, which isn't easy. I have chosen:
1.
Helen
2.
Martin
3.
Jack and Joann
4.
Peter
5.
Melinda