Father's Day and Angela's Belated Birthday are over for another year.
I did make the Ice Cream Cake and here are two photos, one before it was sliced and one after. Like I said if you like Ice Cream Sandwiches, Chocolate Pudding and Cool Whip, plus Oreo cookies, you should like this.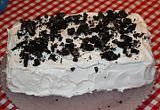 Click photo to make larger.