Scribble Award
1. Post the award on your blog.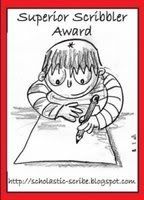 2. Link me,
Preston
for giving it to you.
3. Link the originating post -
here
.
4. Pass the award on to five more deserving people.
5. Post these rules for your recipients.
OK now here are my five recipients:
Becky, calls her blog
Twisted Fencepost
who lives on a farm in the Southeast, with her husband she calls the Captain and their son she calls Boo Man.
Winifred who lives in the UK. calls herself
The World's Greatest Procrastinator
Says she has reached another stage in her life, not sure what it is, just hopes it's not the final one.
Cindy lives in Va. calls her blog
twobytwobytwo
she's a mom of three sets of twins. Yes, really. 9 year old b/g, 6 year old g/g and 3 year old b/b. None identical, all a handful. I would say she is busy, busy, busy.
Angela our oldest daughter.
A Day At A Time.
Mother of a 16 year old boy, just learning to drive.
And last but not least is Merle, calls herself
Merle's Third Try
I enjoy her humor. She's in my age bracket, which is nice to find older people. She lives in Australia. She says in her blogger profile she lives in Shepparton which is a rural city in central Victoria. Based on the Goulburn valley the area produces a large percentage of the fruit canned in the State.