AWARD DAY

I received this award from Prachi Pandey
who is part of Delhi with Avinash & Friends. All about India's capital. I find this blog very interesting. Love the quotes they post at the top of their blog, stories and photos are very nice and always interesting, plus they have some very helpful hints and tips. Now and then some really cute jokes. Everyone needs to make at least one stop to say hello to them. I think you will find their blog very interesting, I do.
Thank you so much for the Friendship Award.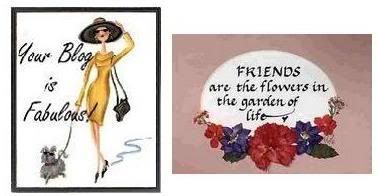 The rules for the Friendship Award are simple:-
*Copy the badge and put it on your blog.
*Link back to the one who passed this tag to you.
*Spread this tag to at least 4 bloggers or more who you are friends with.
Now to pass on this award...
Since this is a friendship award, I would like to pass on to the blogs of my choice:
1. I love the quotes and so forth she post on her blog at
Anne's Quotes and Things
2. This lady is witty and I enjoy the jokes and stories she always post.
Merle's Third Try
3. Now this lady post some very interesting stories of her life and coming to the US with her grandparents in the early 50's.
Renie Burghardt's World
4. This lady shares recipes, hints and tips on how to save money while grocery shopping along with some funny stories of life.
That British Woman
I really do enjoy all of these blogs, plus loads more, but there is no way I can list them all here. So I picked out just four. Any friend of mine that comes here and would like to participate in the Friendship Award, feel free to copy and use it, I'm sure Prachi Pandey wouldn't mind, and you can even link to her blog if you wish.