New Award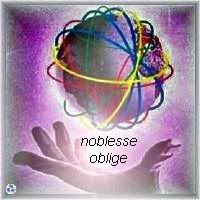 I received this award from Merle at
Merle's Third Try
I find her blog interesting, full of fun and jokes that make me laugh out loud. I find even though she lives in Shepparton, Vic., Australia, we seem to have a lot in common. I found this post exceptionally nice. Titled
Success
The rules are :
The Blogger manifests exemplary attitude, respecting the nuances that pervade amongst different cultures and beliefs.
The Blog contents inspire; strive to encourage and offer solutions.
There is a clear purpose at the Blog; one that fosters a better understanding on Social, Political, Economic, the Arts, Cultures and Sciences and Beliefs.
The Blog is refreshing and creative.
The Blogger promotes friendship and positive thinking.
The Blogger who receives this award will need to follow the following steps :
1. Create a post with a mention and link to the person who presented the Noblesse Oblige award.
2. Display the award conditions on the post.
3. Write a short article about what this blog has thus far achieved - preferrably citing a post to support.
4. The blogger must present the Noblesse Oblige Award in concurrence with the Award conditions.
5. The blogger must display the Award on their blog.
The five blogs I choose to receive this award are :
1. Avinash at
Delhi with Avinash & Friends
2. Elizabeth at
Lovin' and Livin' Life in the Ozarks
3. Susan at
My Vision
4. Betsy at
My Five Men
5. Wanda at
Brush Strokes from the Heart
I feel that these five bloggers do fit with the conditions of this award. They have great blogs that are of great interest to all who visit them.