This one is from Wil in Holland Thank you so much, I do appreciate it.

Now it's my turn to choose 8 other persons to whom I must give this award. I don't like to single people out, so I have decided to give it to anybody who visits this post!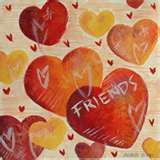 Plus I will list 8 that you might like to visit on your own in case you have never seen them before. I'm going to try to list gentlemen this time. To go to their blogs, please click their name in green.
1. This gentleman has led a very exciting and worthwhile life.
Tomas
2. This gentleman shows his sketches. You might find it an interesting place to visit.
Joe
3. This gentleman also has some funny tales to tell and it seems the little village he lives in has some sort of celebration all the time.
Martin
4. This gentleman is our son, he doesn't post often, but there are some examples of his art work.
Chris
5. This gentleman loves, writing, singing and making new friends.
Tan
6. This gentleman loves taking photos and his family.
Tom
7. This gentleman likes to post about their trips and his family.
Bob
8. My husband doesn't like to take part in this kind of post/Awards, but I am going to list him anyway. He doesn't have to pass it on. In fact none of the men have to pass this on. Just wanted the ladies to know that I do visit a few men's blogs. LOL Abe ( my husband) has more then one blog.
Abe
But I am only listing one.