56 years ago today
We ran off to Richmond, In and got married. Did the blood test, rings and marriage license all in one day. A girl could be 18 and sign for herself, the boy had to be 21, since Abe wasn't 21 yet, his Mother went along to sign for him. His best friend Dwight drove the car, since we didn't have one.

We started off in a little two room furnished apartment in Greenville. He was home on a 30 day leave, and contacted his Captain to get a 30 day extension. He left to go back to Japan on Labor day 1955. I discovered the first month after he was gone that I was pregnant.

Our first child was born on June 1st 1956, Abe got back from Japan in May of 56. When our first baby was two weeks old we left for Baltimore MD, where he finished out his Army hitch. I came back to Ohio in March of 57, since I was pregnant again, this baby, our only son, being born on May 10th 1957 after Abe had been discharged from the Army.

We finally got moved into our little house in the big town of Gordon, it was a house that did have electric and gas but that was all. Believe it or not, the next year on July 5th 1958, we had another baby. Then things slowed down a little. I had to have two major surgeries and I lost a lot of weight. Mr. Abe kept telling me I was looking good (LOL) I guess that should have been some kind of a clue.

Our 4th. baby came on Mar 7th 1962. By this time we had running hot and cold water in the house and a bathroom, but were running out of bedrooms. So we moved into the house we live in now. We lived here 11 years and guess what, I discovered I was pregnant again. I couldn't believe it. Our other kids couldn't believe it either, Angela being 17, Chris 16, Melinda 15 and Becky 11. Melissa was born on June 27th. 1963. Believe me I put an end to that baby making. I figured 5 is enough for anyone. We had people asking us all the time if we were Catholic. LOL Which I thought was funny.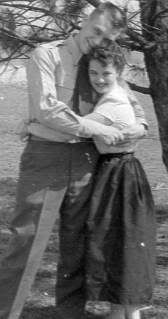 You must admit that's been a number of years. Lots of ups and downs, sickness, sometimes out of work, five children, lots of worries and we still kept plugging along. And even yet today, we're still plugging along. I told Abe one time when we would see older couples holding hands, how cute I thought it was, well now I know, they hold hands to keep each other from falling down. LOL Everyone have a good day.