Abe's Still In The Hospital
I've been making the post over at his http://brookvilledailyphoto.blogspot.com
So thought I better also post here tonight.

Good evening, here it is April 1st. all ready. Hard to believe. 53 years ago today, oldmanlincoln gave me a diamond after dating eleven days.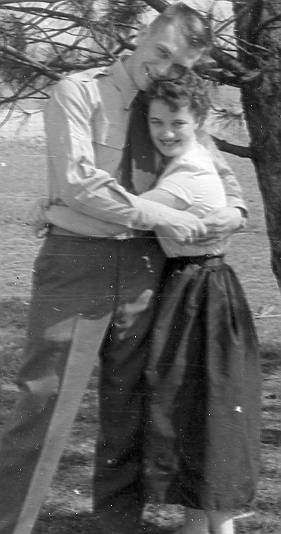 Here's a very old photo.

Also want to update you on his condition. They are givning him breathing treatments every four hours. They also were giving him antibiotics through like an IV. But starting this evening they will start him on antibiotic pills. Tomorrow they want to x-ray the lungs and see how they look. They want to do a heart cath before they send him home. The last one he had done was in 2004 and they want to check the status of the blockage he has. So we're still going one day at a time. I was there with him from about 9:15 this morning helped with his sponge bath, until around 3:45 this afternoon. I figured he needs to get some sleep and I know I was tired, so I came on home. I'll be talking to him later to tell him good night.

I want to thank everyone who has left a comment. I copied them all this morning and printed them out before I left so he could read them. I think he has felt bad enough that he hasn't missed the computer, YET. But I have a feeling he will by the week-end. Good night everyone Have a great evening.