Noble Circle Luncheon
They used the theme of the Mardi Gras to plan their luncheon and entertainment. We had a very good lunch, I am going to post the menu they had standing on the table.

Click the menu below to enlarge. The other sheet was the back side of the menu. Guess who got the piece of cake with the baby? ME! So I came home with a pretty pot of white mums, which I'll have to transplant as soon as the ground is soft enough to dig a hole.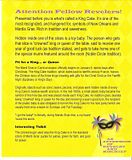 This is a big money making project for the Noble Circle group. I don't belong to it, but our one daughter's partner is a member. She is a 2 plus year ovarian cancer survivor. They lost four members in 2008 and one so far in 2009. They keep their membership to about 130 members. I like the quote on the front of their booklet they have for each person present at the luncheon. This year they had about 725 people attend. At $50.00 a plate, they will end up with a nice little profit. Now for the quote "Smile With An Intent To Do Mischief" ~~ Robert Burton. I also got to meet Helen, our daughter's partner's Grandmother who is 94 years old. She is still very alert and active. I can only hope, if I live that long, my mind and body will both be functioning at the same time. LOL
Everyone have a great evening.