Award Time
I have been honored with an award.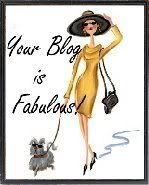 Granny on the Web
gave it to me.
As with most Awards...there are a few rules. You must pass it on to 5 other Fabulous bloggers in a post.
You must include the person who gave the award to you and a link back to their blog.
You must list 5 of your Fabulous Addictions in the post.
You must copy and post these rules in the post.
Right click the Award and save to your computer and post it on your blog.
This is not only a tribute to your blog but a way to widen the blog reading audience!
In no particular order, here are 5 of my fabulous addictions.
1) Chocolate covered cherries
2) Chocolate in any form and covering anything.
3) Hot sour soup from China Palace
4) Playing computer games
5) Talking to my Mom on the phone.
So over to my chosen 5 receivers of this award. Ladies only this time.
Angela
Our daughter
Melinda
Our daughter
Melissa
Our daughter
Helen
Lisa
Katrina Potter (Patty)
Pat
Rosy
I posted eight, since three are our daughter's blogs.
So ladies, what are your five addictions?
An ladies, if you don't have time to do this, it won't hurt my feelings.