My Birthday present
Getting my right eye done on the 22nd. I told Abe, what better Birthday present then being able to see things sharper, clearer and brighter. I had the surgery around 11am, had to go to his office around 4pm to have the bandage removed. Then they put in drops, checked the vision, it was 20/40 but was told it will improve, and flushed my eye with distilled water. My left eye was 20/30 the first visit and 20/20 the next time a few weeks later. I will be going back to see my doctor on the 2nd. of Nov.

The first time I met Dr. Moyer, I couldn't believe someone that looked that young could be a doctor/surgeon. Was I ever wrong. He's a very patient, caring, young man. He listens to what you have to say, and answers questions without making you feel like he's talking down to you. He's very polite and a real gentleman. For anyone needing cataract surgery that lives in the Dayton area, I would recommend him. He's with the Dayton Eye Associates. Dr. Paul D. Moyer,M.D.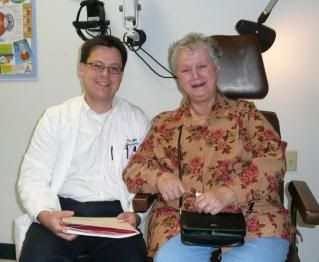 This is a photo our nine year old Granddaughter took of the doctor and me. I was only going to take his photo, and then it was suggested to have us both in the photo. And yes, I do have my teeth in, LOL it just looks like they aren't there. I also look a little worn out. But hey, when you're almost 73 and having eye surgery, even though it's a quick surgery, it still takes a little out of the old girl. I say for anyone needing cataract surgery, if at all possible, HAVE IT DONE, you won't regret it. Especially if your doctor turns out to be as nice as mine.