54 years ago
Patricia Ann Custer went to Richmond, Indiana with Abraham Wesley Lincoln, along with Abe's best friend, he had the car and Abe's Mother. We were married by a Justice of the Peace. At that time a girl could be 18, and I was, going on 19 in Oct., the boy had to be 21, Abe was still 20, so his Mother had to sign for him. He turned 21 in Oct. We got our blood test, picked out gold bands from a jewelry store, got married and since it was getting so late in the day, the courthouse would be closed before all the paper work was finished. So one of the workers at the courthouse, gave us her home address and said to drop around and pick it up from her. So we did.

Went back to Ohio and told my parents we were married. We didn't even have a car. But a bus use to run from Arcanum to Greenville and back when making there trips into and from Dayton, Ohio. His best friend drove us to Greenville, Ohio to a hotel that was called the James Hotel, it was at the circle. One room with a sink, the tub and toilet were at the end of the hall. It has long been gone, torn down to improve the circle. The next day we went to a different hotel, got a lot nicer room, then took a taxi over to visit with Abe's Mother. She had two small children from her second marriage, they were five and three. I think her husband drove us back to the hotel. But when we got back and went to pick up our key, they told us they had to move us to a different room. This was a really large room, the bathroom was almost as big as the bedroom, and it also had a large fan. Something the other hotel didn't have. We stayed there a couple of nights then found a two room furnished apartment in Greenville. Since our marriage made the front page of the Greenville Advocate, we assume that's why the hotel employees gave us a different room at no extra cost to us.

Abe was suppose to go back to Japan at the end of July, first part of Aug. But he wired his Captain and was able to get a 30 day extension on his leave. So he didn't have to fly back until Labor day. By that time, we also had purchased an old 1950 Buick which we paid cash for. We drove that Buick until 1957 when we got a new Cheve. We even drove it to Baltimore, Md where Abe had to finish up his Army hitch. We left Ohio with a two week old daughter.

We have no photos of that run away marriage, LOL, people didn't carry cameras around like they do now a days. But this is an old photo I found taken during that time period.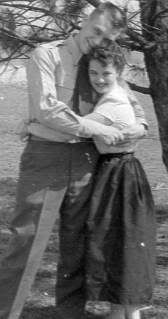 P.S. I forgot to mention Abe and I just happened to run into one another on a Saturday evening, at my Aunt's restaurant called Smitty's in Arcanum. We hadn't seen each other in several years. That was on March 19th.,1955. He asked me to a movie the next night the 20th of March, we went to see the movie called Battle Cry. I think we saw each other almost every day or evening until April 1, when he picked me up for lunch, from school, and he gave me a diamond engagement ring. He had to leave on April 10th, Easter Sunday. How's that for a fast courtship. LOL